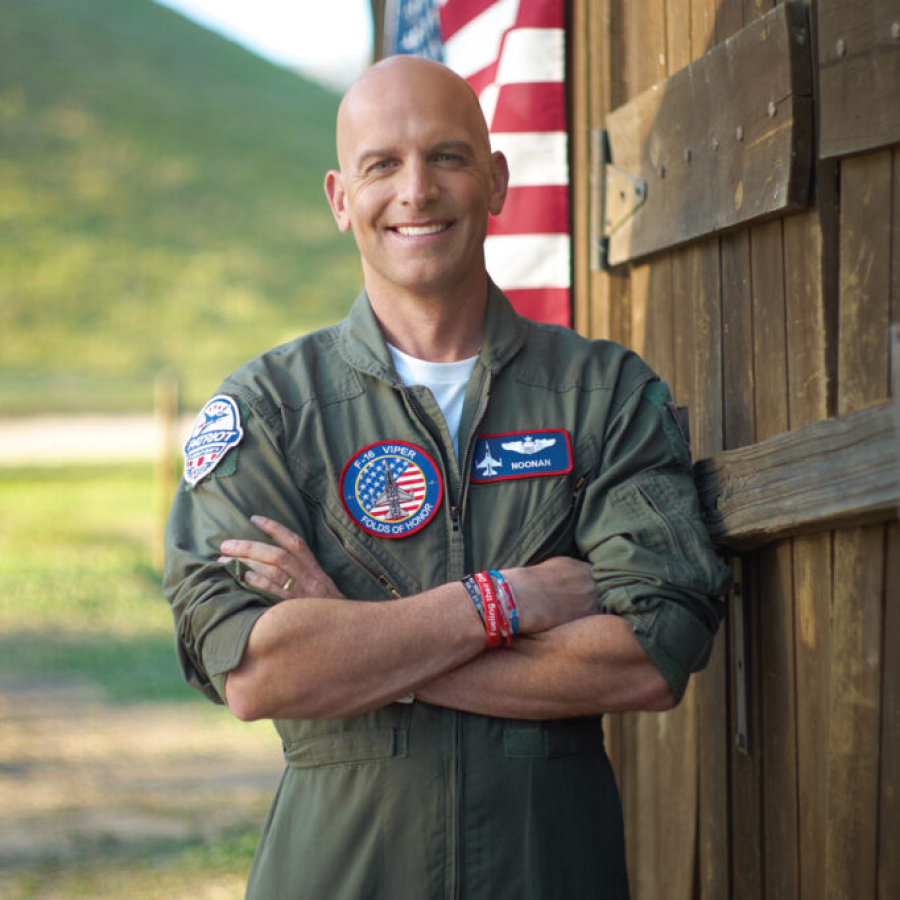 Presented in Partnership with Northwood University
Lieutenant Colonel Dan Rooney - A Patriot's Calling: Leadership, Teamwork, and Sacrifice
Motivational Speaker, Fighter Pilot, Patriotic Philanthropist, PGA Professional, Golf Course Developer, and Author.
Event Details
Lt. Col. Dan Rooney, USAF is the founder and CEO of Folds of Honor, a military foundation that has provided nearly 30,000 educational scholarships, 41 percent to minorities, since its inception in 2007. Lt. Col. Rooney is a highly-decorated F-16 fighter pilot and has flown three combat tours in Iraq. He served as a motivational speaker for two US Ryder Cup Teams and is the only-ever fighter pilot/PGA Professional. His second book, Fly Into The Wind, is a bestseller and he hosts a Fox TV show by the same name. He is a frequent contributor to Fox News.
As an author, he has written two bestselling books, A Patriot's Calling—Living Life between Fear and Faith and Fly Into the Wind, How to Harness Faith and Fearlessness On Your Ascent to Greatness.
From humble beginnings above his garage, Lt. Col. Rooney started the non-profit Folds of Honor. Its singular mission is to provide educational scholarships to the spouses and children of wounded or killed military service members. In 13 years, Folds of Honor has provided nearly 30,000 life-changing scholarships totaling over $145 million dollars. Among the students served, 41 percent are minorities.
As a PGA Professional, he started Patriot Golf Day to benefit Folds of Honor and founded two nationally ranked golf clubs, The Patriot Golf Club in Tulsa, Oklahoma, and American Dunes Golf Club in Grand Haven, Michigan in collaboration with Jack Nicklaus.
Lt. Col. Rooney continues his military service as aggressor pilot as a proud member of the 301st Fighter Squadron at Eglin AFB in Destin, Florida. Rooney is a decorated military aviator; he is a two-time recipient of the Top Gun award and was honored with the Spirit of Attack award as a top graduate of F-16 training. He has received many decorations including the Air Force Commendation Medal, Air Medal, Anti-terrorism Medal, Combat Readiness Medal, and Air Expeditionary Medal. For his service and patriotism, Rooney was presented the White House's "Presidential Volunteer Service Award" by President George W. Bush, the Air National Guard's "Distinguished Service Medal", the Air National Guard's "Directors Service Award" and the Ellis Island "Medal of Honor".
Lt. Col. Rooney is a Kansas University Distinguished Alumni, Significant Sigma Chi, NCAA Silver Anniversary Award honoree, and recipient of the Oklahoma Medal of Freedom. He was honored at the Master's Tournament with the "William D. Richardson Award" for his outstanding contributions to golf and received the PGA of America's first-ever "Patriot Award". He has been recognized as one of People Magazine's "Heroes of the Year," Money Magazine's "Hero of the Year" and ABC World News Tonight's "Persons of the Year." He was a CNN Hero and awarded the Fox Nation Ultimate Patriot Award.
He lives in Owasso, Oklahoma with his wife, five daughters, and three dogs.