Host an Event
Overview Of The Center
About
The Great Lakes Center for the Arts is a 501(c)3 charitable organization with a mission to inspire, entertain, and educate residents and visitors to Northern Michigan with year-round programming across all genres of the performing arts. Designed by renowned theater designers Fisher Dachs Associates and architects TowerPinkster, The Center is centrally located in Northern Michigan, just outside of Petoskey on US31, near Harbor Springs, Charlevoix, and Boyne City.
Programming
After the curtain rose for the first time in July of 2018, The Center began a year-round line-up of events across all performing arts genres. Visiting artists, intellectual dialogue, movies and film, and educational programming will accompany music, theater, dance, and comedy in bringing exceptional, world-class opportunities to the shores of Lake Michigan. The Center is dedicated to affordable ticket pricing for year-round and seasonal residents and visitors of all ages to enjoy and benefit from the Center's resources.
The Area
Located near many historic, destination towns, the Center welcomes patrons to experience all that Northern Michigan has to offer. There is no shortage of indoor and outdoor activities for all ages, unique dining experiences and lodging, as well as stunning views, any time of the year.
The Center's mission is to inspire, entertain, educate, and serve all in Northern Michigan year-round by presenting exceptional experiences across the full spectrum of the performing arts and offering impactful educational opportunities.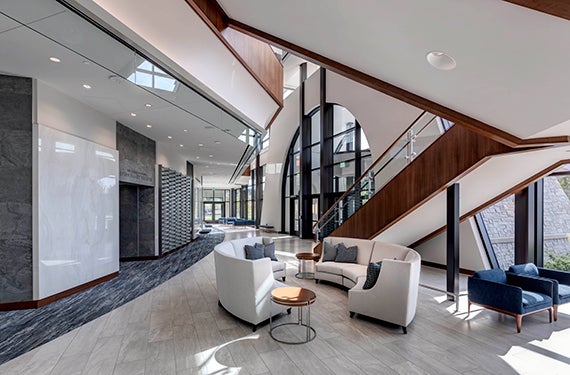 Planning Information
The Great Lakes Center for the Arts has six unique spaces available for rent, perfect for private and business events, weddings, and social events
Features
• High-speed wifi throughout
• Catering/staging kitchen on Main Level
• Ample parking on site
• Porte cochère
• State-of-the-art features throughout
Community Engagement Room
4,000 square feet for versatile use
Variety of configurations for table and chairs seating, chair seating only or mix

Tables and chairs: 256 capacity
Chairs only, lecture: 246 capacity
Donor Lounge
800 square feet of intimate space ideal for board meetings, private dining, or receptions
Adjacent and connected to Rooftop Terrace
Equipped with a flat-screen, high-definition television with presentation ability
Portable bar service available
Main or Upper-Level Lobby
Host elegant receptions in the open Main or Upper Level Lobby
Portable bar service available
Theater
525 seats, including box seating
State-of-the-art acoustics and equipment, including a 45-foot wide cinema screen
Large stage: 35 feet deep x 78 feet total width, including wing space, plus 9 feet additional stage thrust with the removal of the first two rows of seats
Main Level Patio
700 square feet
Comfortable seating for 60
Beautifully landscaped
Rooftop Terrace
4,200 square feet
Accommodates 180 seated and 280 standing
Overlooking Lake Michigan and Bay Harbor Village
Portable bar service available
Exterior Space
Space for up to 40' by 60' tent on the south lawn
Electricity available