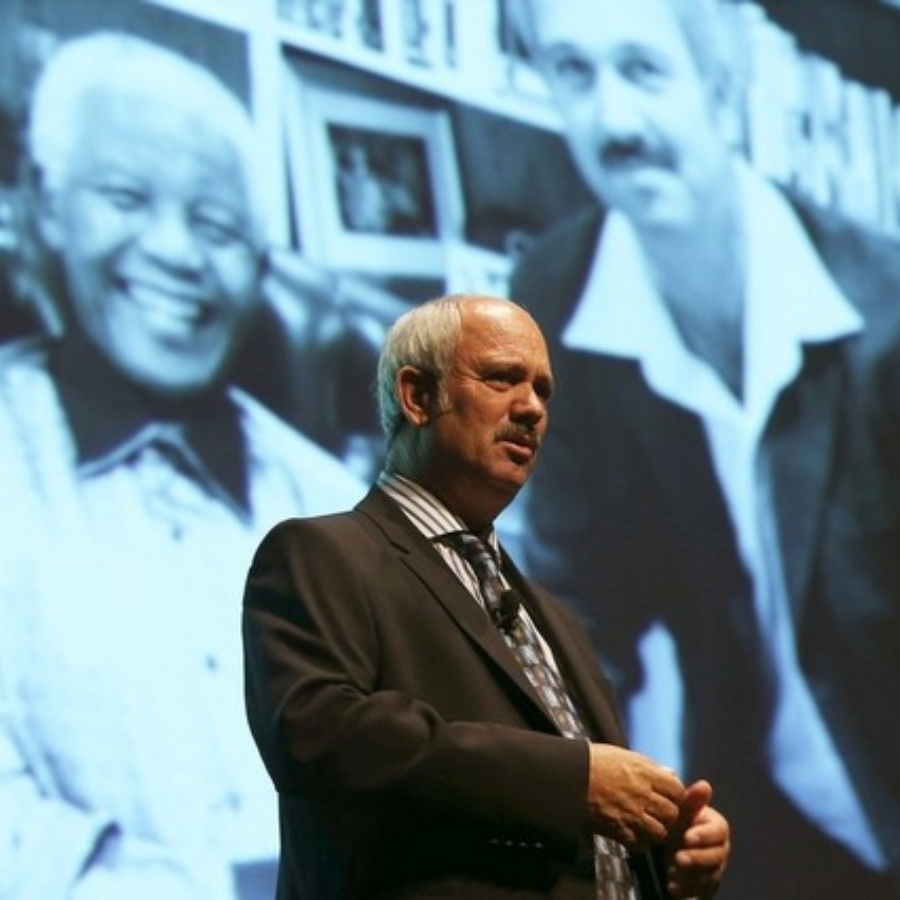 Distinguished Speaker Series
A Conversation with Christo Brand
Nelson Mandela, Hope, and Humanity through stories, music, and dance.
Date

October

8

, 2023

Event Starts

3:00 PM

Doors Open

2:30PM

Ticket Prices

$125 VIP / $25 All Seats / $5 Students

On Sale

On Sale Now
Event Details
Supporting Sponsor: The Holder Family Foundation Fund of Petoskey-Harbor Springs Area Community Foundation
You are invited to discover Nelson Mandela and his life's purpose as never before through the art of conversation, dance, and music. His life's sacrifices recounted by the prison guard with whom he became lifelong friends. This October, Christo Brand explores the power of hope that unites us all as members of one human race. Be sure to experience A Conversation with Christo Brand, former Robben Island jailer-turned-friend of Nelson Mandela, moderated by Emmy Award-winning independent film producer David Crouse as part of the Center's Distinguished Speaker Series.
Accompanying the conversation are the following original creative works:
Movement - Heather Raue, Artistic Director of CTAC School of Ballet, has choreographed an original work that explores themes found in Christo Brand's book and the possibility of finding beauty and light in even the darkest of circumstances. Projection by Finley Van Patten and music composed by Roger Tallman.

Music - Great Lakes Chamber Orchestra Chorus (GLCO) Chorus Master Andre Strydom will perform "He Walked to Freedom," a song by South African composer Jeanne Zaidel-Rudolph. Joining Strydom on piano will be percussionist Tim Mocny and celebrated local talents soprano Amy Cross and tenor Brian Horning.
Following the event, a book signing will be held in partnership with Mclean and Eakin Booksellers, with Doing Life with Mandela: My Prisoner, My Friend, by Brand, available for purchase.
Christo's early years were spent on a small farm outside Stanford where his father was the foreman.  The farm was called "Goedvertrouw" – a Dutch word meaning "Good trust".  He went to a small school on a nearby farm from the age of 5 years.  The nearest bus stop was five miles from his house.  One of the farmworkers, a black man called Chocolate, would walk with Christo to the bus stop.
His schoolmates were all white boys – the coloured and black kids went to another school.  But before and after school these were his friends.  They spent their weekends and free time playing together.  They knew nothing of the cruel racial boundaries in the country.  Life was tough – the family had no luxuries; no electricity.  Evenings were spent listening to Christo's dad playing the violin and Chocolate, the guitar.
At the age of 12, his father developed pneumonia and the family were forced to leave the farm and move to his uncle's house in Parow Valley.  Christo started working on the weekends for a builder.  By the age of 17 he had saved enough money to buy an old Ford Cortina – which needed its engine overhauled and gearbox replaced.
Rather than join the army for National Service as was compulsory for every South African white male, Christo decided to join the prison service.  After training for a year in Kroonstad, he applied for a post on Robben Island because he wanted to be close to home.
His application was successful and at the age of 19 he was sent to work on Robben Island in 1978.  That was when Christo first came across Nelson Mandela who at that time was 60 years old.  This was where they formed a relationship which was to become so much more.  A close friendship built on trust and mutual respect for each other.
In 1982, Mandela was transferred to Pollsmoor Prison.  On 13th March that year, Christo married Estelle.  Soon afterwards, Christo was transferred to Pollsmoor and was responsible for guarding Mandela for the next 6 years.
Later Mandela was moved to Victor Verster Prison and the talks about his release escalated.
On his release, Mandela organised a job for Christo as an administrative and logistics manager in the Constitutional Assembly.  Once the Constitution was adopted, Ahmed Kathrada organised for Christo to start work again on Robben Island – this time as supervisor in the island shop.  The wheel had turned full circle and Christo was back where he started his work career.  But this time on an island freed of prisoners – a place of healing and reconciliation.  A place of endless fascination to international tourists, historians, political activists and anyone with an interest in South Africa's turbulent past.  On 31st July 2018 after 20 years at Robben Island, Christo retired to pursue his story-telling on a full-time basis.
A VIP ticket includes ($125):
Event ticket
Exclusive Meet & Greet beginning at 2:15PM
A copy of Doing Life with Mandela: My Prisoner, My Friend