Attendee Details
Saturday, July 9, 2022
Experience an unforgettable night celebrating the past five seasons, with renowned Grammy winner and American singer-songwriter, John Fogerty as you jam out to southern blues with a mix of both country and rock 'n' roll. Enjoy all the flavor and fun that comes with the VIP Dinner for Sponsors and afterparty including a full selection of drinks and signature cocktails and music by the Bluewater Kings Band. Together, we will toast the past five seasons of performing arts experiences and the generous community of supporters that made it possible!
---
The Evening
Attire: Celebratory Chic, Black Tie Optional
5:00PM Doors Open for VIP Dinner Guests (Attended through a Sponsorship)
Cocktails and Photo Opportunity
Dinner rooted in Southern flavors
Luxury Live Auction
7:45PM Center and Theater Doors Open for Concert Ticket Holders
Cocktails and Photo Opportunity
8:30PM Gala Concert
Roots Rock Legend, John Fogerty
10:00PM Rooftop Afterparty
Rooftop Afterparty sponsored by Todd Wenzel Automotive Group
Bluewater Kings Band
Southern-inspired hors d'oeurves
11:30PM Evening Concludes
Dress in whatever you feel is comfortable for a special Gala event – Celebratory Chic is encouraged!

The Annual Gala is black tie optional, with those that enjoy a tux choosing to don them and those that do not opting for other attire. We expect everything from cocktail dresses to sparkly gowns and everything in between. The theme of the evening is celebrating the 5th Anniversary with champagne and silver tones and navy accents. Attendees are encouraged to have fun with the theme!
John Fogerty is a true American treasure. As the leader of Creedence Clearwater Revival, Fogerty forged a distinctive, groundbreaking sound all his own, equal parts blues, country, pop, rockabilly, R&B, swamp boogie, and Southern-fried rock 'n' roll, all united by his uniquely evocative lyrical perspective.
Fogerty is a Grammy winner and inducted into both the Rock & Roll Hall of Fame and the Songwriters Hall of Fame. He is the only musician to be inducted into the Baseball Hall of Fame with his song, Centerfield - a staple at baseball stadiums across the country.
Among Fogerty's many hit songs, both as a solo artist and as the leader of CCR, highlights include Centerfield, Proud Mary, Susie Q, Fortunate Son, Born on the Bayou, Bad Moon Rising, and Have You Ever Seen the Rain.
Please check in upon arrival. Tickets for the Gala will be distributed that evening upon arrival.
If you are a sponsor, tickets will be reserved under your name. Please distribute the tickets to your guests while seated together at dinner.
If you are a guest of a sponsor, the host of your table will receive all tickets when they check in and provide them to you during dinner.
If you are a Concert ticket holder, your tickets will be reserved under your last name.
The Center is located at 800 Bay Harbor Drive, Bay Harbor, Michigan. The Bay Harbor community is just west of Petoskey and east of Charlevoix on US 31.
As you turn from US 31 into the Village at Bay Harbor at the US 31 traffic light, you will be on Bay Harbor Drive. As you head down Bay Harbor Drive, you may find parking for the Center on your right in the GLCFA Main Parking Lot, with overflow in the lot to the south (towards US 31).
Please see map below indicating where you may park your vehicle. Reserved spaces for handicapped patrons are located in the front row and the first four parking spaces of the Main Parking Lot. In addition, the Center's porte-cochère may be utilized for easy drop-off at the main entrance to the building. We will have a GEM car available to help escort guests between the parking lot and Center.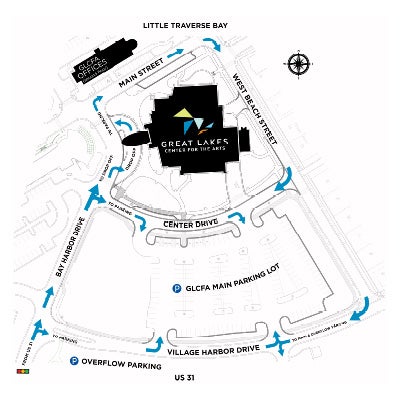 The concert begins at 8:30PM sharp. Late attendees will need to wait to be escorted into the theater.
Our live auction with a variety of exciting packages will be held immediately following the VIP Dinner in the Community Engagement Room. All bidding will be done live at the event.