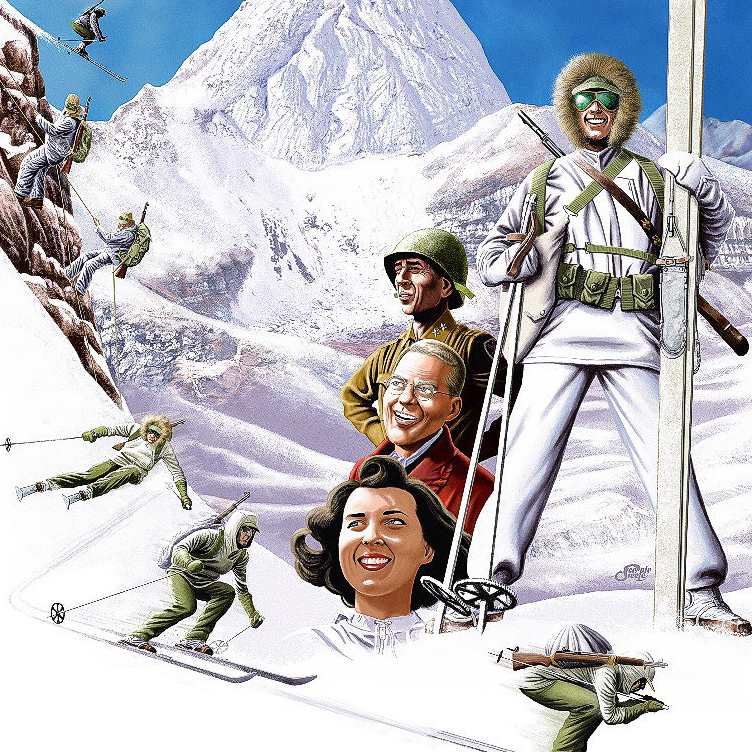 A co-produced fundraising cinema event in support of the Harbor Springs and Petoskey Ski Teams as well as the Great Lakes Center's and Chris Anthony's Youth Initiatives.
Northern Michigan Premiere Screening: Mission Mt. Mangart
A story about the legendary 10th Mountain Division of WWII
Date

October

17

, 2021

Event Starts

7:00 PM

Ticket Prices

$25 Adults / $15 Youth / $25 Raffle Tickets

On Sale

On Sale Now
Sponsors



Event Details
A co-produced fundraising cinema event in support of the Harbor Springs and Petoskey Ski Teams as well as the Great Lakes Center's and Chris Anthony's Youth Initiatives.
Written, directed, edited, and produced by professional skier, documentary filmmaker, and Colorado Snowsports Hall of Fame inductee, Chris Anthony, with an original film score by composer Carlo Nicolau and supervisor Chris Anthony. "Mission Mt. Mangart" follows the 10th Mountain Division's trailblazing efforts by this experimental infantry unit made up of world-class athletes, mountain men, and cowboys during WWII. The 10th Mountain Division left behind an indelible legacy equally matched by their legendary heroism during wartime.
This Northern Michigan premiere screening features a live introduction and Q&A with Chris Anthony.
ABOUT THE FILM: While many stories have been created about the 10th's history, this documentary delves into those untold tales from a unique perspective by professional skier Chris Anthony who serendipitously stumbled upon the division's exploits during his own skiing career. Taking six years to complete, this story found Anthony and would not let him go. Anthony's life journey was designed to be the person that would stumble across the ingredients needed to put this documentary together in a timeline only he could do.
Anthony tells the story as a flashback from the present-day while jumping back in time to follow the 10th from 1939 – June 3rd, 1945 with in-depth narration as well as interviews of original 10th Mountain Division soldiers.
The film chronicles the efforts of a few characters including pioneers Deborah Bankart and Cruz Rios. Bankart's involvement in the recruiting of the first wave of soldiers for the new experimental unit and her volunteer involvement on the front lines in Italy with the American Red Cross is brought to life by Olympic Gold Medalist and World Champion Coloradan Mikaela Shiffrin. Cruz Rios, a motorman and one of 300 Mexican Americans who served in this internationally diverse 10th made up European immigrants never had never skied. Cruz became a lifelong skier after learning in basic training and surviving the war. During wartime, he captured moments on a color camera that contributed to the documentary.
The documentary also touches on the twenty-five men who went missing in Lake Garda, Italy April 29th, 1945 during the Battle for Torbole and Riva Del Garda – a sacrifice that until recently, went relatively unnoticed.
Portions of the documentary are filled with the voices and first-hand accounts from veterans of the 10th. One of those soldiers is still with us today and played an important role in Chris Anthony's research. Bruce Campbell, who was part of the 87th, left home at the age of 17, signed up for the War Effort, and ended up in Camp Hale, Colorado with the 10th because of his athletic skills.
During previous combat, the 10th captured a supply of German ski gear with hopes it would prove useful. That opportunity arose after successfully pushing the Yugoslavian Army out of Italy then held the line in the Julian Alps. It was at that moment they gazed upon the massive snowfield on Mt. Mangart and remembered they were skiers long before they were soldiers. So, on June 3, 1945, on a majestic mountain in the Julian Alps, Mt. Mangart, the 10th hosted their first divisional ski race since the onset of war.
The story of the 10th Mountain Division is intertwined with that of Anthony and his six-year journey of discovery into this period of history. To complete this massive undertaking, Anthony received aid from the Slovenian Association of Mountain Soldiers, NATO, The Slovenian Mountain Troops, Slovenian Ministry of Defense, and the United States Embassy in Slovenia as well as assistance from retired Slovenian Brigadier General, Janez Kavar – now a historian of mountain troops.
"Mission Mt. Mangart" was produced as educational programming under the umbrella of the Chris Anthony Youth Project whose mission is to build engaging educational tools, juxtaposing the innocence of the 10th's ski race in the midst of wartime with the context of the international instability at the time. Much like his previous documentary effort in partnership with Warren Miller Entertainment and the Colorado Snowsports Museum, "Climb to Glory," Anthony aims to keep alive the legacy and sacrifices made by American troops.
* Best Historical Documentary Cannes World Film Festival 2021
* Best Documentary Castellabate Film Festival 2021
* Best Feature-Length Documentary Florence Film Awards 2021
* Silver Medal Milan Gold Awards 2021
* Best Original Score Florence Film Awards 2021
* Silver for Original Score Milan Gold Awards 2021
* Finalist for European Cinematography
Raffle Tickets and Information
Raffle Tickets | $25 each | Buy Tickets
Raffle tickets must be purchased by those 18 and older and the winner need not be present
Nub's Nob Unlimited Ski Pass
Courtesy of Ben Doornbos, Nub's Nob
Dynastar/Lange Package
Courtesy of Eric Smith, Dynastar
Two subscriptions to the Center's 2022 Summer & Fall Season
Courtesy of Great Lakes Center for the Arts