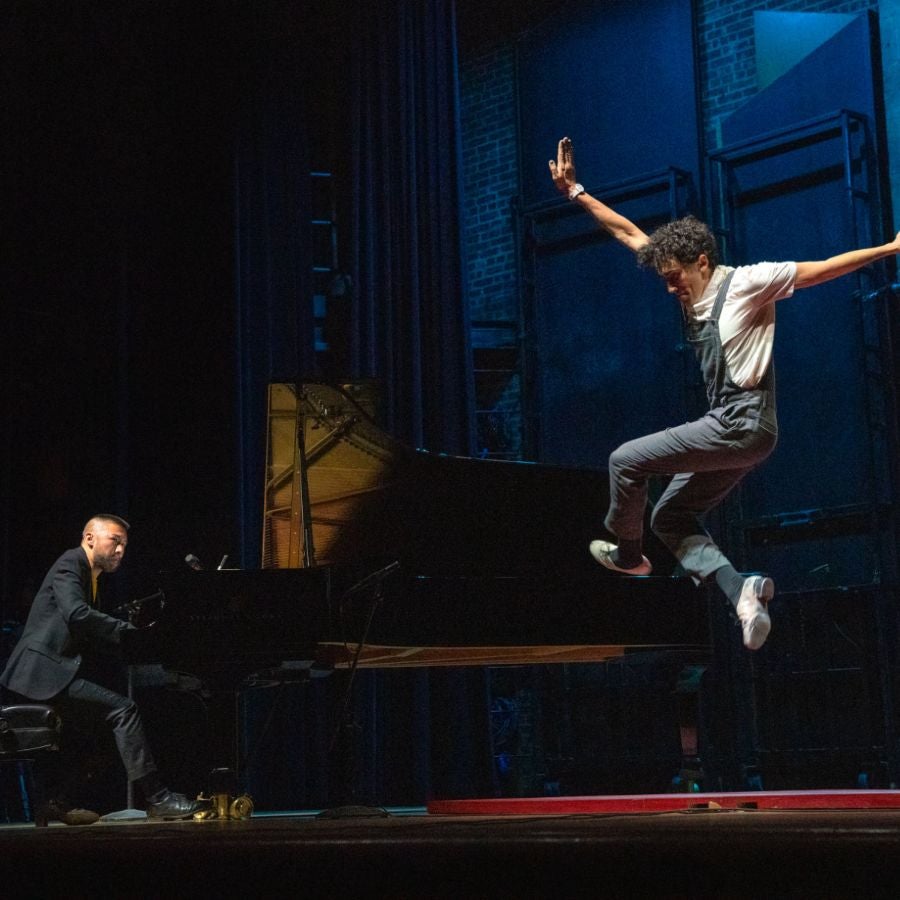 Conrad Tao and Caleb Teicher: Counterpoint
One's a tap prodigy. The other's a piano virtuoso. Together, they create magic onstage.
Date

July

18

, 2023

Event Starts

8:00 PM

Doors Open

7:30PM

Ticket Prices

$82 / $72 / $57 / $42 / $37

On Sale

On Sale Now
Event Details
"When Caleb Teicher tap dances to pianist Conrad Tao's rendition of "Rhapsody in Blue," it looks spontaneous as if they are magically linked by the same innovative mindset...Tao plays "Rhapsody" with dynamic precision, rendering the tentative introduction with exquisite technique before the momentum builds into an expressive, march-like melody. Teicher, dressed casually in overalls and a T-shirt, adds a layer of rhythm with shuffles, slides, and spins, a freestyle approach that gives way to an exuberant hailstorm of rapid footwork, punctuating the piano composition with percussive taps."

San Diego Tribune
Counterpoint is a collaboration between pianist and composer Conrad Tao and choreographer and dancer Caleb Teicher. The duo explore the dichotomy of their different perspectives and artistic practices, expanding their individual expressive capacity through a collective experience.
The harmonic, rhythmic, and theatrical counterpoint between the artists seeks to map constellations linking their disparate traditions, driving the imagination and opening the heart. The stylistically diverse music of Counterpoint includes the Aria from Bach's Goldberg Variations, Art Tatum's demented stride piano, Arnold Schoenberg's ironic take on the Viennese waltz, a delicate miniature from Tao and Teicher's More Forever, and threading it all together, a work that bridges traditions, approaches, and styles—Gershwin's "Rhapsody in Blue."
Tao and Teicher's earlier work, More Forever, is a Bessie Award-winning, NewYork Times critic's pick which was lauded for "constantly extending the sonic aspects of dance."
Represented by Opus 3 Artists
CALEB TEICHER specializes in musically driven dance traditions and interdisciplinary collaboration. Their work has been presented at venues including The Joyce Theater, New York City Center, the Guggenheim Museum, Jacob's Pillow Dance Festival, and Lincoln Center. Caleb is the recipient of a 2019 New York City Center Choreographic Fellowship, a 2019 Harkness Promise Award, a 2019 NEFA National Dance Project Production Grant, and two Bessie Awards. Their work has been featured by The New York Times, NPR, Forbes, Vogue, Interview Magazine, on the cover of Dance Magazine, and on The Late Show with Stephen Colbert alongside Regina Spektor
CONRAD TAO has appeared worldwide as a pianist and composer. Born in Urbana, Illinois in 1994, he is the recipient of the prestigious Avery Fisher Career Grant and was named a Gilmore Young Artist. As a composer, he was also the recipient of a 2019 New York Dance "Bessie" Award, for Outstanding Sound Design / Music Composition, for his work on More Forever, his first collaboration with Caleb Teicher. He has appeared as soloist with major orchestras including the Los Angeles Philharmonic, Cleveland Orchestra, New York Philharmonic, and Boston Symphony. As a composer, his work has been performed by orchestras throughout the US; his first large scale orchestral work, Everything Must Go, was premiered by the New York Philharmonic and his violin concerto, written for Stefan Jackiw, was premiered by the Atlanta Symphony and the Baltimore Symphony.