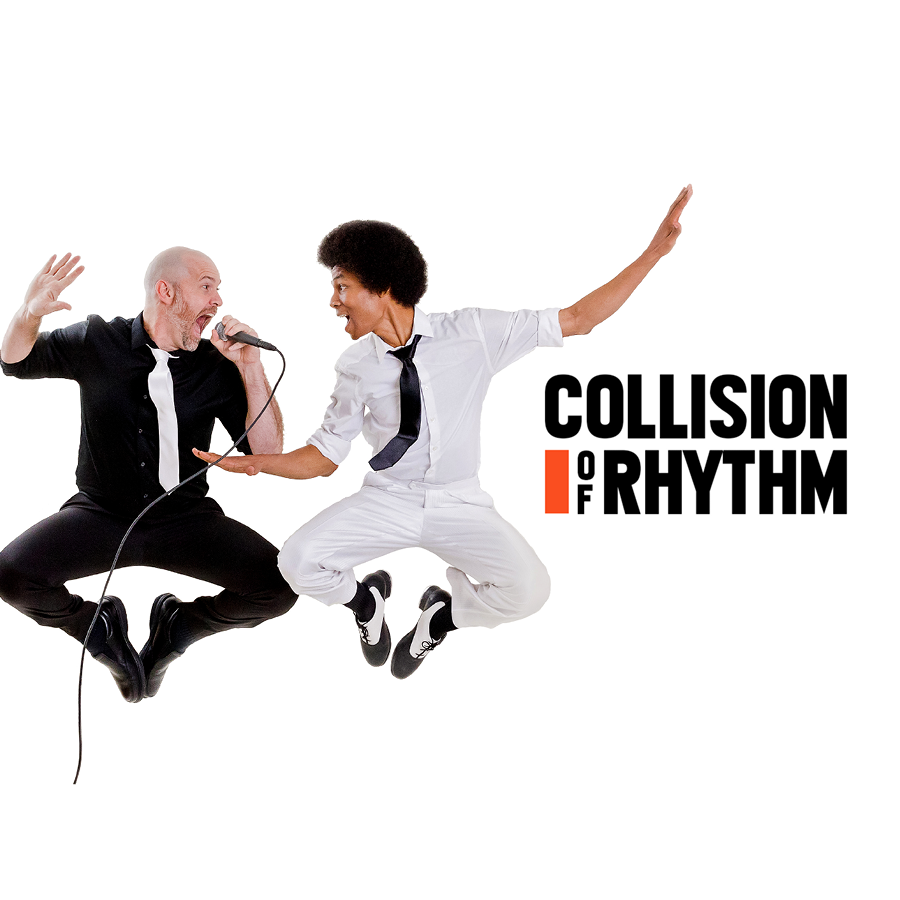 Collision of Rhythm
Their performance is a nonstop, mind-blowing cavalcade of percussion, tap dancing, vocal percussion, instrumentals, piano, marimba, juggling, singing, and audience interaction.
Date

August

17

, 2022

Doors Open

1:30PM, 6:30PM

Ticket Prices

Matinee: $30 / $25 / $15 Youth Evening: $35 / $30 / $20 Youth

On Sale

On Sale Now
Event Details
We are all made of music.
Collision of Rhythm delivers a high-energy, impactful showcase full of innovative musical feats, spontaneous audience interaction, and tons of laughter and excitement! Their performance is a nonstop, mind-blowing cavalcade of percussion, tap dancing, vocal percussion, instrumentals, piano, marimba, juggling, singing, and audience interaction. Collision of Rhythm has been described as Stomp meets Blue Man Group meets Cirque du Soleil.
Collision of Rhythm began when Bronkar Lee and Aaron Williams met on stage, both speaking and performing separately at a TEDx event in Hollywood, CA. The two were drawn together and inspired by each other's technical abilities and infectious energy, and both immediately felt that they were meant to perform together. This feeling was confirmed by the resulting undeniable synergy and spark in their initial collaboration.
But it wasn't just about "putting on a show" for either of them. Bronkar has years of experience conducting youth empowerment programs and workshops, as well as providing inspirational and motivational entertainment to adult crowds at conferences and galas. Aaron has invested much of his time teaching music and dance, and leading workshops with kids. United by their desire to inspire and spread a positive message through music, dance, and physical theater arts, they crafted a live show focused on combining different rhythmic art forms in new and innovative ways.
Both artists are multi-instrumentalists and come from different artistic backgrounds -- Bronkar started out his career with circus arts and theater; Aaron has spent years studying dance and music theory, and the two are able to fuse their talents in varied and unexpected ways. For example, Bronkar's passion for juggling and object manipulation combines seamlessly with Aaron's knack for advanced musical time signatures, but they do so in a manner they like to call "sophisticated funk" – i.e., using their technical precision as masters of their crafts and communicating it so that it relates to all ages of people. The show is constructed as family-friendly, making it easily accessible to the youngest of audience members and, at the same time, still wildly impressive to the oldest of those in attendance.
Another key component of the performance concept is audience interaction. The show illustrates the new and unique possibilities that can result from a collaborative process, and how these possibilities can be amplified when we work together as a unit, instead of as individuals, and then extends the collaborative process to include the audience members as well. The resulting audience experience becomes that of not just observers but that of active participants as well, joining in on the excitement and energy that comes from that in-the-moment expression of passion, music, and life.
Student Workshop Opportunity
Is your child in grades 5-12 and interested in a special opportunity to attend a one-hour workshop with the artists? There are just 25 spots available! This workshop will be offered at 3:30PM in the Community Engagement Room at the Center on Wednesday, August 17, and costs $10 per student. To purchase tickets, call the Box Office at 231.439.2610 or e-mail tickets@greatlakescfa.org.
This event and workshop promise to be rewarding, interactive, community-building events full of fun, positivity, and incredible rhythmic feats.